Shortly about modern Canadian professional wrestling promotions
Today Canada is well-known for its wrestling companies, the quantity of which is high. The CWE is a brilliant one on the list, but are there any others to remember? Let's check them out!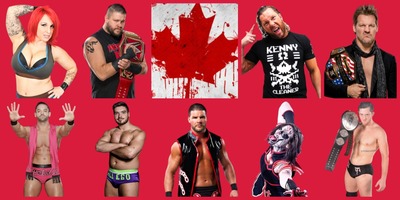 Border City Wrestling (BCW) (1993 to present)
Windsor, Ontario is the locality where the game was started – dating back to the 1970s and 1980s it was a hotbed for Detroit's The Sheik and his NWA affiliate. In the late 1970s and early 1980s, 'Crybaby' George Cannon broadcast his Superstars from Windsor (featuring Big Time, IWA, and others).
The BCW, set by Doug Chevalier, Chuck Fader, and Scott D'Amore was Windsor's first major company.
The BCW has served as a base for hundreds of today's celebrities, including current NXT Champion Bobby Roode, former Impact World Champion (and NXT Superstar) Eric Young, current IWGP Junior Heavyweight, and ROH Television Champion Kushida, current Impact Knockouts Champion Rosemary, and current Impact Grand Champion Moose (to name a few).
D'Amore has now a leading position of International Relations for Impact Wrestling (where he worked before), but he still runs shows for BCW.
ECCW (1996 to present)
When it began as Extreme Canadian Championship Wrestling and an NWA affiliate, it had long since ended that affiliation by the time it was renamed (Extreme was changed to Elite) later.
Headquartered in Vancouver, British Columbia, the ECCW effectively replaced both All-Star and Stampede promotions as Western Canada's premiere leader (which is still in operation), launching the careers of hundreds of celebrities, like Kyle O'Reilly, Natalya, Tyler Breeze, Tyson Kidd, Davey Boy Smith Jr (DH Smith), Jack Evans, The Singh Brothers (aka The Bollywood Boyz), Taya Valkyrie, Nicole Matthews, and many more.
Prairie Wrestling Alliance (2001 to present)
The PWA, based in Edmonton, Alberta, is still one of the Prairie province's most powerful promotions. Along with ECCW, the PWA provided lots of opportunities for many fighters, including WWE Champion Jinder Mahal, Hart's family offspring, Johnny Devine, serving as a gateway to Ontario and the East.
Great North Wrestling (2007 to present)
The GNW is owned and operated by Canadian indie wrestler Hannibal (also known as Devon Nicholson, the fighter who sued Abdullah the Butcher for contracting Hep-C from a match) and is based in Northern Ontario, near Pembroke. Their shoot interviews (on HannibalTV) are legendary for combining top indie (international and local) with Legends.
C4 (2007 to present)
Capital City Championship Combat, or C4, is Ottawa's premier promotion. Among the plethora of Ontario and nearby Quebec fighters are such celebrities as 'Speedball' Mike Bailey, The Super Smash Brothers. C4 is worth mentioning for many top indie fighters traveling from the West to Quebec and the Maritimes.
Canadian Wrestling's Elite (2009 to present)
THE CWE is a fighting promotion based in Canada. Danny Duggan founded it in 2009. It is headquartered in Winnipeg, Manitoba. Throughout the CWE's existence, its alumni have become well-known in the industry. Aside from organizing online battles and streaming, there are special sport conventions where anyone can participate and meet their favorite fighter.
Alpha-1 Wrestling (2010 to present)
Alpha-1 (or A1) is the home promotion for one of indie most significant heels, evolve star Ethan Page, and is based in Hamilton, Ontario (just south of Toronto). Alpha-1 continues to push the boundaries of the sport in Ontario, bringing in top international talent while also showcasing strong local independents.
Smash Wrestling (2011 to present)
While The SW is one of the new kids on the block (in comparison), they have made up for it in evolution spades. They have grown from an upstart Toronto promotion to touring Southern Ontario, from the 416 to London, Sarnia, St. Catharines, and beyond.
They have been the Canadian home for stars such as Johnny Gargano, Rosemary, Allie, and others, and they continue to encourage some of Canada's best indie talent on a regular basis (their current champion is Canadian icon, Tyson Dux).
Armed with knowledge, you can now move on
Although there are currently many platforms for the development of fighters in Ukraine, this is only the beginning. Sport is coming to life, so the emergence of new companies or the expansion of old ones will be expected in the near future.
Follow industry news and stay ahead!